JESUS AND ISRAEL: PART 1
What they said about Jesus the man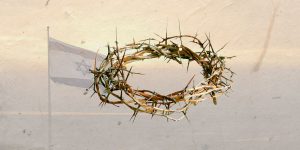 The disciples of Jesus of Nazareth wrote eyewitness accounts about him. We find these in the Gospel writings of Matthew, Mark, Luke and John. We also have testimonies of Peter, Paul and John, who recounted communication and visions they all had with Jesus after his death. These were amazing "post-mortem" exchanges.
The claims and actions of Jesus the man as recorded in these accounts are intriguing to say the least. So let's examine some key accounts. If true, they hold serious implications for us all.

EYEWITNESS DECLARATION #1: ACCORDING TO JOHN, JESUS IS THE CREATOR
John wrote that Jesus is God and is the Creator of the world and everything in it, including man:
In the beginning was the Word. And the Word was with God, and the Word was God. All things were made by him. Nothing was made without Him
Clearly, John is explicitly and boldly saying that Jesus of Nazareth is the Creator of the world and creator of man, the animals, nature, and everything in this world. Jews and non-Christians of course reject that teaching to be blasphemy or mythical, whilst Christians who have never seen Jesus believe this to be true and hang on to this declaration by John.

EYEWITNESS DECLARATION #2: ACCORDING TO JESUS, NOBODY HAS SEEN GOD THE FATHER
Jesus' pre-human existence was declared by Jesus Himself. Jesus was quoted to say to the Pharisees:
Before Abraham was, I AM
In the Old Testament we read that nobody can see God and live. But Moses was special. He was the only man who has spoken to God face-to-face and didn't die. However, his face shone each time he had exchanges with God. Now, Jesus said nobody has seen the Father but himself. Now if that is the case, who did Moses see? The narrative implies that Moses spoke to Jesus in his pre-human existence. Intriguing!

EYEWITNESS DECLARATION #3: ACCORDING TO WITNESSES, A VOICE FROM THE SKIES SAID JESUS IS HIS SON
The voice is understood to be the voice of God the Father. All four gospel writers say that Jesus is the Son of God. They make this claim having witnessed the scene when God the Father spoke from the heavens about Jesus as His beloved son. Also, Jesus was being baptized by John the Baptist in the Jordan River when a dove alighted on him and a voice from the skies was heard to say:
This is my beloved Son, with whom I am well pleased

EYEWITNESS DECLARATION #4: JESUS HIMSELF ACKNOWLEDGED THAT HE IS THE JEWISH MESSIAH
Jesus is the Messiah awaited by the Jews. When Pilate asked Jesus if he was the expected Messiah (Heb: Mashiach). Jesus said,"It is as you say."

EYEWITNESS DECLARATION #5: JESUS DEMONSTRATED SUPERNATURAL POWERS, INCLUDING RAISING THE DEAD TO LIFE
The Gospel writings are filled with eyewitness accounts of miracles. Jesus the man turned water into wine, produced 5,000 loaves of bread and thousands of fish from just two loaves and one fish, healed all who came to him of various diseases, stopped a raging storm, walked on water, restored a severed ear without surgery – and even raised the dead back to life! Given these well-attested eyewitness accounts, we ask ourselves, 'Who was Jesus: Man, or God?'

EYEWITNESS DECLARATION #6: JESUS CAME BACK ALIVE THREE DAYS AFTER BEING CRUCIFIED AND KILLED ALONG WITH CRIMINALS
The dead body and skeleton of Jesus of Nazareth has never been seen. The Romans spread word that Jesus' disciples stole his body. To this day, the vast majority of religious Jews believe what the Romans say. They say that Jesus' body was stolen by his disciples.

EYEWITNESS DECLARATION #7: AFTER COMING BACK TO LIFE, JESUS SPENT 40 DAYS WITH HIS DISCIPLES AND THEN WENT BACK TO HEAVEN BY RISING UP INTO THE CLOUDS, SAYING HE WILL RETURN TO EARTH IN LIKE MANNER AT THE END OF THIS AGE
These eyewitness accounts of Jesus living after his death, rising to heaven, and declaring that He will return in like manner to establish his world-ruling kingdom are concepts that even many Christians find difficult to accept. Will the person Jesus, the 'man' who died on a cross, really return to this earth? But that's what eyewitnesses heard and recorded.
---