Media quotes concerning Israel show that she has few friends and many enemies. And even her friends (like America) can be two-faced, whilst Israel's enemies want her eliminated. No wonder Israel often feels alone and insecure in the world. Here's some recent quotes.
Quotes in Support of Israel
Barack Obama: When it comes to the Israeli-Palestinian conflict, Obama faces both ways. Here are three comments in support of Israel:
"The Jewish people have forged a successful state in their historic homeland. Israel deserves recognition. It deserves normal relations with its neighbors" [Obama, September 2011]
"I have made it a top priority for my administration to deepen cooperation with Israel across the whole spectrum of security issues — intelligence, military, technology" [Obama, July 2012]
"The United States is proud to stand with you as your strongest ally and greatest friend" [Obama, March 2013, link]
Clinton: Hillary Clinton also faces both ways. Here she is supporting Israel:
"It is in our national interest to have an Israel that remains a bastion of stability and a core ally in a region in chaos" [Hillary Clinton, 2015, link]
Rosenberg: Following the 2012 UN vote recognizing the "State of Palestine", link, bestselling author Joel C. Rosenberg commented on God's warning to the nations not to divide His Land (Joel 3):
"The Palestinians have suffered so much, from many sides. I wish a sovereign state was the answer. Nearly the whole world is convinced it is. But defying God's Word won't be bring blessing; it brings sadness and eventual judgment … There are many ways we can be a blessing to the Palestinian people. But it simply will not be a blessing to them — or to any nation or people group around the world — to support dividing the Land of Israel in disobedience to God's Word" [Joel C. Rosenberg]
Good Quotes from Past Leaders
"The major difficulty is that the Palestinians don't accept Israel's right to exist" [Tony Blair]
"Israel was not created in order to disappear – Israel will endure and flourish. It is the child of hope and the home of the brave. It can neither be broken by adversity nor demoralized by success. It carries the shield of democracy and it honors the sword of freedom" [John F. Kennedy]
"The United States and Israel have enjoyed a friendship built on mutual respect and commitment to democratic principles. Our continuing search for peace in the Middle East begins with a recognition that the ties uniting our two countries can never be broken" [George W. Bush]
"The Israeli regime is not Apartheid. It is a unique case of Democracy" [Chief Mangosuthu Buthelezi, South African Interior Minister, 2003, link]
Quotes Against Tiny Israel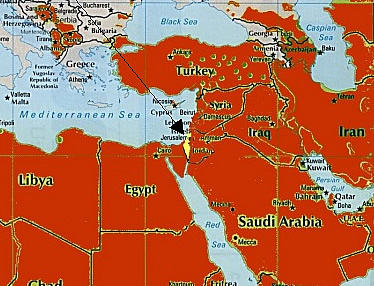 Barack Obama: Obama faces both ways when it comes to Israel. He has said this in support of the Palestinians, link:
"They endure the daily humiliations – large and small – that come with occupation. So let there be no doubt: the situation for the Palestinian people is intolerable. America will not turn our backs on the legitimate Palestinian aspiration for dignity, opportunity, and a state of their own"
Hillary Clinton: Following in Obama's footsteps, Secretary of State Hillary Clinton spoke at the 2012 Saban Forum on US-Israel Relations, saying that the Israelis need to:
"demonstrate that they do understand the pain of an oppressed people in their minds"
Paul Marie Couteax (French EU parliamentarian):
"I have no hesitation in saying that we must consider giving the Arab side a large enough force, including a large enough nuclear force, to persuade Israel that it cannot simply do whatever it wants. That is the policy my country (France) pursued in the 1970s when it gave Iraq a nuclear force"
Ban Ki-moon (UN): Through numerous aggressive resolutions against Israel, the United Nations has shown itself to be no friend of Israel. Here are comments from Ban Ki-moon, Secretary-General of the United Nations, January 2016:
"Continued settlement activities are an affront to the Palestinian people and to the international community. They rightly raise fundamental questions about Israel's commitment to a two-state solution"
"Palestinian frustration is growing under the weight of a half century of occupation and the paralysis of the peace process"
"So-called facts on the ground in the occupied West Bank are steadily chipping away the viability of a Palestinian state and the ability of Palestinian people to live in dignity"
Mahmoud Abbas, Palestinian Authority:
"The 'Jewish state.' What is a 'Jewish state?' We call it, the 'State of Israel'. You can call yourselves whatever you want. But I will not accept it"
Mohammad Abu-Koash, Palestinian Ambassador:
"Israel writes another chapter of terror, massacres, ethnic cleansing, which constitute the pillars of its own creation… Any attempt to curb the Israeli actions is dubbed anti-Semitism. They have a free license to persecute the Palestinian Semites" [January, 2008]
Threats of War Against Israel
Ayatollah Ali Khamenei, Supreme Leader of Iran:
"This barbaric, wolflike & infanticidal regime of Israel which spares no crime has no cure but to be annihilated" [2014]
"God willing, there will be no such thing as a Zionist regime in 25 years. Until then, struggling, heroic and jihadi morale will leave no moment of serenity for Zionists" [2015]
Hezbollah:
"Israel is our enemy. This is an aggressive, illegal, and illegitimate entity, which has no future in our land. Its destiny is manifested in our motto: 'Death to Israel'" [Hassan Nasrallah, Hezbollah leader, 2005, link]
ISIS threat to Israel:
"There will not be a single Jew left in Jerusalem and throughout the country" [2015]
"We're coming, and coming very soon … We are getting closer to you day by day. Do not think that we have forgotten about you" [2016]
Hamas: Ismail Haniyeh, Palestinian Hamas leader in Gaza:
"We will never recognize the usurper Zionist government and will continue our jihad-like movement until the liberation of Jerusalem [December 2006]
The resistance will continue until all Palestinian land, including al-Quds (Jerusalem), has been liberated and all the refugees have returned [February 2012]
Thousands of fighters above ground and thousands of fighters underground have been preparing in silence for the campaign to liberate Palestine [October 2013]
This is a generation which knows no fear. It is the generation of the missile, the tunnel and suicide operations [January 2014]"
In response to on-going threats, Yaakov Amidror, former director IDF Research & Assessment Division has commented:
"We need to understand that Israel's security is sometimes more important than political agreements. We must not fool ourselves, and better face reality as it is – not in a naïve manner"
Finally, a Quote from Israel
Benjamin Netanyahu, Israeli Prime Minister:
In October 2010 the United Nations Educational, Scientific and Cultural Organization (UNESCO) voted overwhelmingly to officially declare Hebron's Cave of the Patriarchs and Rachel's Tomb in Bethlehem as Palestinian mosques. It affirmed these two specific sites as "an integral part of the occupied Palestinian territories and that any unilateral action by the Israeli authorities is to be considered a violation of international law", link.
Netanyahu responded:
"The attempt to separate the nation of Israel from its cultural heritage is absurd … If the places where the fathers and mothers of the Jewish nation – Abraham, Isaac, Jacob, Sarah, Leah and Rachel – are buried some 4,000 years ago, are not part of the Jewish heritage, then what is? It is unfortunate that an organization that was established with the goal of promoting the cultural preservation of historical sites around the world, is attempting to uproot the connection between the nation of Israel and its cultural heritage"
---